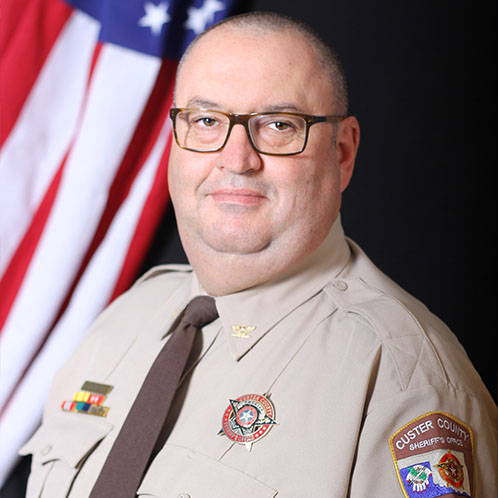 "I believe that experience and dedication to service counts. I have been in law enforcement my entire adult life, and the last 25 years of that has been right here at the Custer County Sheriff's Office." ~ Sheriff Kenneth Tidwell
Sheriff Kenneth Tidwell
Sheriff Tidwell was elected Sheriff of Custer County in April of 2016, and began his term on January 3rd, 2017. Since taking office Sheriff Tidwell has taken steps to increase the training of staff as well as improve communications within the department at little cost to better benefit the citizens of Custer County.
Sheriff Tidwell started to work with the Custer County Sheriff's Office in 1994 as a patrol deputy. Through the years, he has served as a Drug Abuse Resistance Education (D.A.R.E.) Instructor, has been a certified K9 handler, certified law enforcement training instructor and TASER instructor. He has held the ranks of Lieutenant and Undersheriff, and for a 8 month period in 2008, served as the Interim Sheriff of Custer County.
Sheriff Tidwell has implemented new technology, at little cost, for use in the dispatch and patrol units to communicate with dispatch and map out call locations so that they are easier to find. He has also implemented drone with thermal imaging technology to be used in the search for lost children and adults, fugitives and evidence gathering. Video visitation has also been installed in the jail, which increased visiting opportunities between inmates and their families, while increasing security and decreasing the workload on staff.